The maximum dilution ratio is: 1000:1. Four-way MFC flow control: The flow range, the number of components, the maximum dilution ratio, etc. can be freely set and assembled according to user requirements Flow repeatability: ≤0.5% Flow linearity error: ≤±0.3% Gas distribution uncertainty: <1%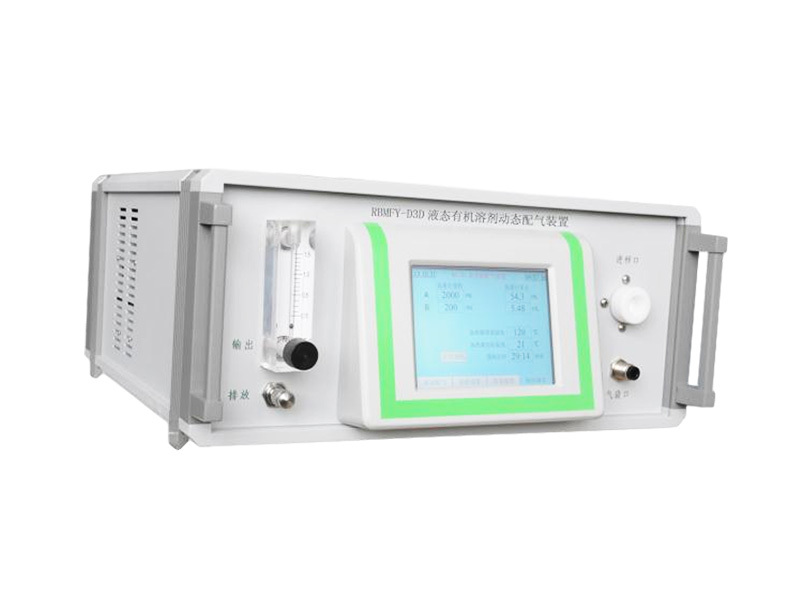 Performance characteristics

The maximum dilution ratio is: 1000:1. Four-way MFC flow control:
The flow range, the number of components, the maximum dilution ratio, etc. can be freely set and assembled according to user requirements
Flow repeatability: ≤0.5%
Flow linearity error: ≤±0.3%
Gas distribution uncertainty: <1%
Preheating time: 30min
Auto Zero: Automatically adjust the zero point of the MFC after preheating, or repeat zeroing from the Preheat Zeroing page
Instrument Power: 220V AC
Operating environment: 5°C~45C
The online gas distribution system of the gas detector can provide the certificate of China Institute of Metrology.
The main function

Automatic gas distribution: This device is a computer intelligent gas distribution system. All operating functions are completed by touch on the display screen, just select and input the name and concentration of the gas that needs to be prepared and diluted on the device screen, by pressing the touch screen several times. .10 seconds to prepare and display the accurate and stable standard concentration of gas you want.
Automatic calibration: According to the properties of different gases and the experimental ambient temperature, the flow volume is automatically corrected. Simultaneous multi-component preparation and mixing
Touch operation and screen display: There are 4 page labels at the bottom of the display screen. Enter the corresponding page by touching the label concentration gas distribution, flow setting, flow detection and preheating zero adjustment, the year, month, day, instrument name and time are displayed at the top of the display screen. .
RELATED PRODUCTS
undefined
Get a free product quote
Our staff will contact you within 24 hours (working days). If you need other services, please call the service hotline:
0531-87239187